Our setting and play
The Pre-School is run by a management committee and this committee helps the Pre-School manager to provide an excellent educational play environment where children feel happy, calm and secure.  The classroom is friendly, bright and cheerful with the children's artwork proudly displayed on the walls.
We are located on the same site as Sonning Common Primary School ensuring a smooth transition alongside friends from the same year and previous year.  Our children also go on to Peppard or Kidmore End Primary Schools and again we work closely with these schools to aid a smooth transition.
We recognise the importance of play, and use this as the main tool for children's learning.  There is a balance of child-initiated activities and adult-directed activities which enhance the learning and development of each individual child.
Because our Pre-School has been purpose built, children can move freely and easily between the indoors and outdoors spaces.  We ensure appropriate footwear and coats are worn for the outdoors environment!
Garden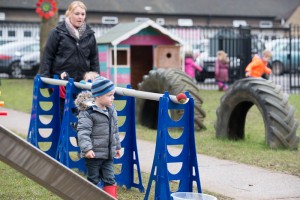 We are lucky to have a large outdoor space for our children to use in a variety of ways.
We recently open our Forest School area which encourages children to learn through their own interests, ideas and mistakes. Enabling children to become resilient and confident individuals.  
Also outside at their disposal are a mud kitchen, mini-beast hotel, slide, playhouse, numerous ride on toys, vegetable garden, sports equipment.
We encourage children to use the outdoors area in all seasons and weathers to learn about nature and play in an environment created for physical development.
Outdoor classroom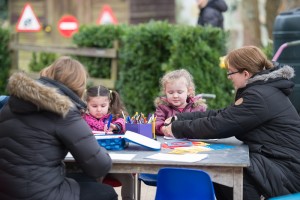 We also use the covered outside space for playing and reading in bad weather, which allows us to continue learning in fresh air.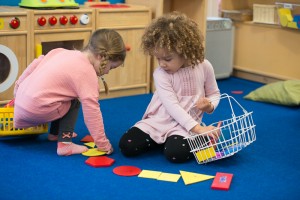 Inside
We have a large room set up with activities which vary daily.  Each term we have a theme e.g. "about me" or "transport" and activities are created to help children explore these areas.
We have the following key play equipment available to the children:
Role play
Arts and Crafts – gluing, painting, colouring, cutting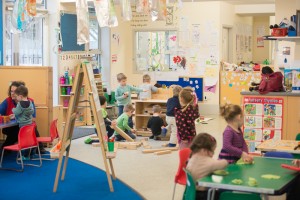 Messy play/sand and water play
Play-doh
IT
Huge range of toys, games, puzzles and books
Cooking – baked goods feature regularly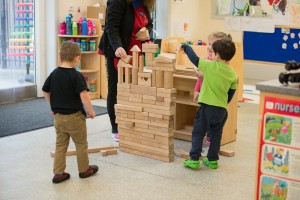 All of our resources are checked for breakages, cleaned every term and replenished regularly to ensure safety and variety.